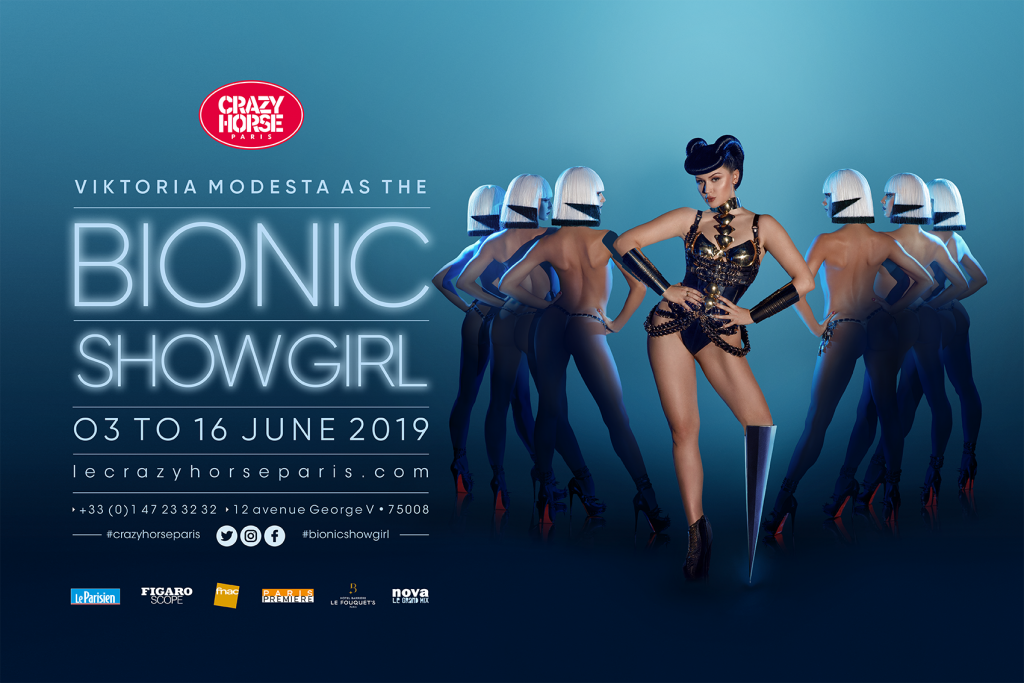 Crazy Horse Paris, the iconic Parisian cabaret, famous for its incomparable style and cutting edge collaborations, launches a brand new innovative artistic adventure as it invites Viktoria Modesta, a bionic performance artist, creative director, singer/songwriter, speaker and social media sensation, to star as its first "Bionic Showgirl" from 3 to 16 June 2019.
Viktoria's life story resembles a fairy tale: after a traumatic start to her life at the end of USSR regime and battles with her health, she evolved herself through the love of fashion, avant-garde arts and subculture. After moving to London at the age of 12 and starting out in modelling in her teens, she chose to have a below the knee amputation to safeguard her health from a withered leg and improve her mobility.
This transformation liberated her creativity, allowing her to fulfil her passion and develop her own image far from the stereotype. In her performances, that include countless concerts, the London Paralympics Closing Ceremony, Fashion Weeks shows and a viral video campaign ("Prototype"), Viktoria transforms the human body into art. Her reimagining of the future female artist features a wide range of multidisciplinary collaborations and combines traditional entertainment, cutting edge bionic prosthetics, tech-fashion and new media.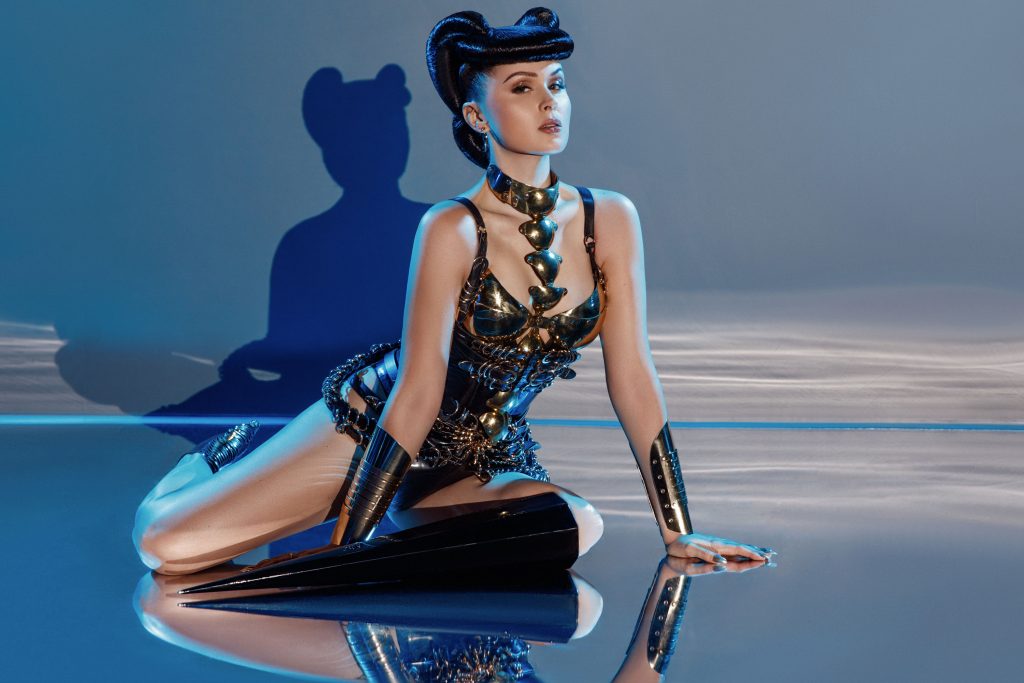 She is now set to be the first bionic Guest Star in the history of the renowned Parisian hotspot. Icon of a whole new genre, exceptional and impressive, Viktoria has been invited by Andrée Deissenberg, Chief Creative Director of Crazy Horse Paris – a woman who loves a challenge – to perform on the legendary stage. Architect of her own world, Viktoria personifies the woman of the future who turns technology to her advantage, forever sublime.
"I was fascinated by Viktoria's incredible determination and her creative power. The way she has taken control of her own destiny and transformed her life into a total artistic performance is genuinely astounding. She is a true artist but also a modern, strong and free woman, at ease with herself and blazing a path into the future. Viktoria is an inspiration. I had to ask her to be our next guest star." Andrée Deissenberg
At a time when intense questions are being asked about the role and image of femininity, this meeting between the complementary worlds of Crazy Horse Paris and Viktoria Modesta is an opportunity to show a French and international audience an alternative vision of womanhood, sensuality and beauty fit for the 21st century, at the intersection of innovation and traditional performance art.
Viktoria Modesta and Crazy Horse Paris are presenting a future that is already here, in which difference is highlighted and celebrated, and where, by employing innovative technologies and an unconventional approach, disadvantage is transformed into strength and asset.
"When living in London, I came to see Crazy Horse Paris show several times, it's an institution, an artistic experience unlike anything else and it had me mesmerised. It really spoke to my passion of creating a hyper reality full of magic. I love this opportunity to push myself and my vision and explore together with Crazy Horse Paris the important challenges of the female image. This is going to be a journey where we reimagine this outdated storyline in the most innovative and entertaining way" Viktoria Modesta
Over 29 exceptional performances, available for booking now, Viktoria will be appearing solo and with the Crazy Girls, the Crazy Horse Paris dancers, in a number of tableaux inspired by her futuristic world. The cabaret and Viktoria, supported by a passionate team of international artistic talents (Paris, Los Angeles, London, New York), bring innovation, creativity and new ideas to an exclusive and unique show.
The future is here and it's definitely Crazy.